Based in the Detroit Metro area, and serving all of Michigan, Ohio and parts of Canada. Dark Lake Video offers a broad range of affordable Video and DVD production services. Whether you need a commercial to showcase your products and services, or you need a video photo montage, transferring existing video or 8mm film to DVD, corporate video, or you have a special event you want to capture forever, Dark Lake Video has both the experience and technology to meet your needs. Every project is unique. We think it's important to ask lots of questions, and we do. Our close attention to the client is what sets us apart from other video production companies.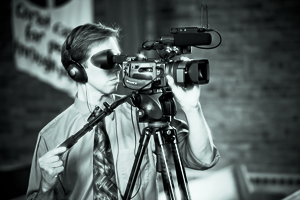 Weddings
With nearly a decade of experience producing wedding films, Dark Lake Video gives you a quality feature presentation without the hassle of complicated pricing packages. Every wedding film is specially customized to reflect your special day. Delivered on DVD with tons of special features, your wedding day can be relived for generations.
Commercials
Since 2003 Dark Lake Video has been producing TV commercials, infomercials, and videos that generate sales as well as providing digital video editing and post production services to a wide range of clients and industries. Our specialty is TV commercial production; from local businesses with moderate budgets to national clients looking for high end top quality production. Our video production expertise is in the following industries; travel and tourism, automotive, car dealers, direct response, public service announcements, restaurants. For all these industries we have provided video production services that range from TV commercials to marketing and sales presentations both for use on location as a sales tool, as well for internet video versions for their websites.
Corporate/Web Videos
At Dark Lake Video, creative, high quality video production is our passion and we've been in the video production business for the past 10 years. Our clients don't just think of us as another video production resource, they've come to consider us strategic partners in their success. We have guided many of them from creating and developing a concept to scriptwriting. We've also handled the production, editing and broadcast distribution. That is the meaning of a "full service video production company". We can produce your video in a variety of video formats. Regardless of who you are we always work within your budget and save you money. We take care of all the pre-production, production and post-production components for you; like location scouting and procurement, permitting, We work with top notch, talented and experienced professionals in the video production industry to ensure every video project is produced to the highest standard.